John Osnes Violins



Hello
I am a violin maker living in Anchorage, Alaska. My name is John Osnes.

As of this year I have completed 48 celli, 118 violins, and 47 violas. One of my latest creations is a Viol da Gamba made for Lucy Peckham, my partner.

I grew up in Everett, Washington, learning to play the violin at an early age. In 1976, I graduated from the University of Washington with a degree in Chemical Engineering and stayed in that field for only two years, before switching to instrument making. At present I operate my shop in Anchorage by day and play violin in the Anchorage Symphony Orchestra, the Anchorage Opera, and other groups by night.


Violins:
I have two models I work from. One is derived from the "Canon" by Guarnerius del Gesu with various modifications to suit my tastes. Body length is 14 inches and the string length is standard.
The other model I use is from the 1704 Stradivarius "Betts" violin.
I prefer the Guarneri.
I shade the varnish sometimes, but do no antiqueing.



Violas:
There are two models that I like. One is a copy of a Brecian viola that at present is being played in the St. Louis Symphony. It is 16.2 inches long and has high arching and a short string length. Has a nice deep sound.
The other model is based on William Harris Lee's violas. A customer wanted one just like her Lee viola but of my construction. That viola is16 inches long and has a truncated lower bout... I used Poplar from Washington State. It is not very figured wood, but the overall look came out very nice; so did the sound.

Cellos:
I have three models. One is a small Strad model with standard string measurements. The second is from a 1739 Domenico Montagnana model with the same string length as the Strad but a larger body. The third modeled after the King David Andrea Amati cello of 1572. The Amati's body is longer, but the string length is shorter; resulting in a big sounding cello that is easy to get around.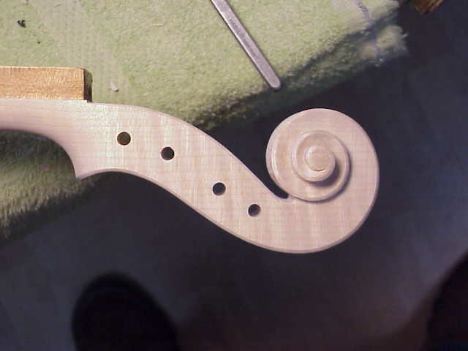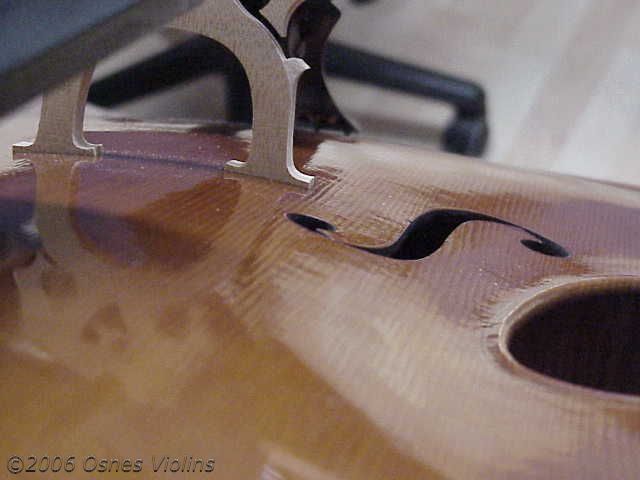 Pricing: 1/01/07

Violin: $6500

Viola: $7000

Cello: $12,500

Getting on my list sets the price. I usually call prior to starting an instrument to see if the person is still interested.
When the instrument is completed I allow two weeks trial to see if this is what the customer wants. Then the money is due.
Shipping both ways is the customer's responsibility.


Vintage and new Instruments and Bows:
I also have new and vintage violins, viola, celli and bows for sale in my shop.
I am a dealer for Eastman Mandolins , Arcus Bows and Coda Bows and now have Concord Double Basses in the shop.
New cases from Concord, Bam, Weber, Eastman Strings, Maurice Rouillard, and Bobelock are also available.



Links to Inventory for Sale:
Violin, Viola, Cello, and Bass
Eastman Mandolin and Guitar
Bows for Sale
Cases for Sale

Other Links:

Extra Pictures

Photo Documentation of building Osnes Cello #46
1.Startup
2.Fingerboard preparation
3.Carving a scroll
4.Mold set up
5.Bending the ribs
6.Top and back preparation
7.Arching Top & Back
8.Graduating the Plates
9.Purfling & Edges
10.Fitting the Neck
11.Varnish
12.Setup





John Osnes
8900 Jupiter Drive
Anchorage, AK 99507

907-346-3609

johnno@gci.net
Fall Moose